Student Ministry- Confirmation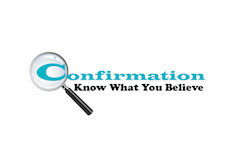 Why do we believe what we believe? What do we believe? What does the Bible say? What is the Big Story of scripture? What does it mean to be a Disciple, of Jesus Christ?
Beginning in 7th grade, our students are invited to explore exactly what we believe and why. Confirmation is a two-year program. Year One is an in-depth study of the stories of scripture, how they tie together and who is the central character in ALL the stories: Jesus. Year Two digs deep into the doctrine of our faith. We study Luther's Small Catechism, explore other religions and how they compare, and ask the Lord to help us apply His Word to every area of our lives. Confirmation is a wonderful opportunity for our students to learn and confirm what they believe.
Who:
Students Grades 7-8
Where:
Youth Rooms 1 and 2 at church with dinner in the Kitchen-Cafe
When:
Sunday Nights
5:00 - 7:00 pm