FOC Men's Retreat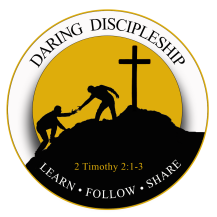 Daring Discipleship:
Learn Follow Share
2 Timothy 2:1-3: You then, my son, be strong in the grace that is in Christ Jesus. And the things you have heard me say in the presence of many witnesses entrust to reliable people who will also be qualified to teach others. Join with me in suffering, like a good soldier of Christ Jesus.
WHEN:
Thursday May 12, 2022 (6:30pm) through
Sunday May 15, 2022 (12:00pm)


WHERE:
Lutheran Valley Retreat
(see map in flyer)


COST:
$195.00
Covers program, food, cabin
(same price if tent or trailer)

Only $150 for First Time Attendees!

CLICk HERE TO DOWNLOAD the FLyeR