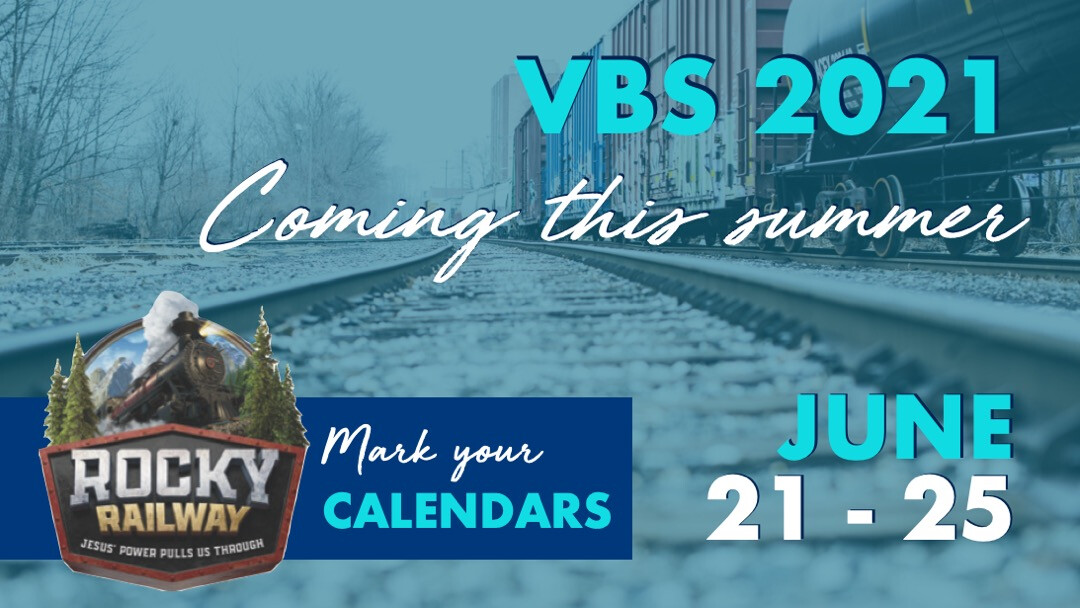 Daily, from 06/21/2021 to 06/25/2021
,
9:00 AM - 12:00 PM
MARK YOUR CALENDARS!
Our summer VBS program - Rocky Railway: Jesus' Power Pulls Us Through is scheduled for June 21-25.
We're so excited to share the love of Jesus Christ through this fantastic program!
There are a variety of fun opportunities for you to climb aboard for mountains of fun right now.

REGISTER
Participant registration is open! Click HERE to sign up. On this faith-filled adventure, kids discover that trusting Jesus pulls them through life's ups and downs. Participants age 3 (and bathroom independent) - kids entering 6th grade are welcome to join us for an amazing adventure on Rocky Railway!

Per current El Paso County Health Department guidelines, we will require all adult volunteers and participants age 11+ to wear a mask. We will also be traveling from station to station outside as well as eating snacks outside.

NEW THIS YEAR: VBS at home! If you still want to participate - but from home - you can do that! You will receive your VBS at Home kit the week before VBS and can participate from home along with us the week of June 21-25.

PRAY
Pray for the kids who will be impacted by VBS along with the volunteers as they prepare for an amazing week that will remind us that Jesus' power pulls us through life's ups and downs!

VOLUNTEER

VBS is one of the biggest outreach opportunities we

have within our community. We need many volunteers to make this event possible.

If you want to get in on the fun this year, please click HERE to register

. We would love to have your help!



DONATE
Soon we will have information available about the specific supplies we will be needing for VBS.



Thank you for supporting this incredible outreach opportunity!

I

f you have any questions, please contact our Director of Family & Children's Ministries, Katie Morgan -