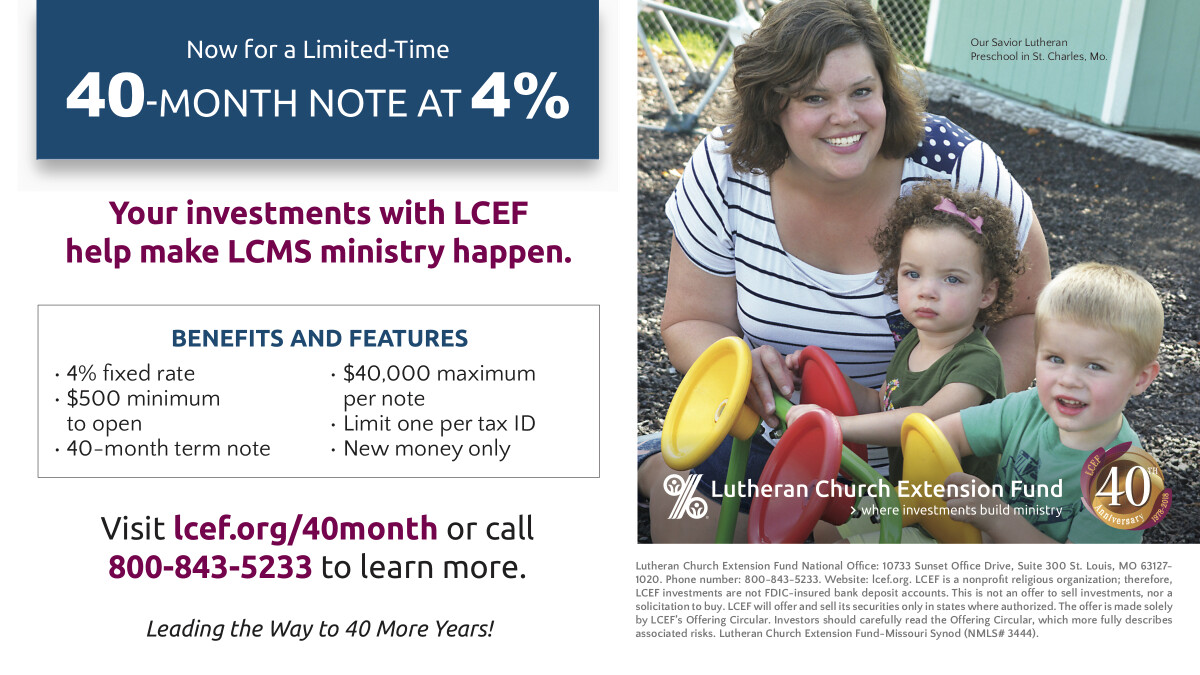 Monday, October 01, 2018 - Wednesday, October 31, 2018
Lutheran Church Extension Fund is Celebrating their 40th Anniversary!
---
"June 15, 2018, marks the 40th anniversary of Lutheran Church Extension Fund (LCEF) as the official financial partner of The Lutheran Church–Missouri Synod (LCMS). However, the idea of church extension goes back even further.
LCEF is blessed to be part of this rich and extraordinary journey–one that began in 1902 with a humble donation by a handful of congregations to help a church build a school. From there it blossomed into a strong and ample investment asset portfolio. This allows it to support LCMS congregations, offices, individuals, Recognized Service Organizations, schools, universities and seminaries today and far into the future. To God be all the glory! For it is by His generous and loving hand that LCEF has grown and flourished over the years." Visit www.lcef.org to learn more!
To celebrate 40 years of serving congregations, LCEF is launching their October promotion!

LCEF needs to raise $100 million dollars to meet the future loan demand and help support growing ministry opportunities. This October promotion is a 40-Month Term Note at a 4% Fixed Rate with a $500 minimum to open and a maximum of $40,000 per note - new money only! If you have some funds set aside that are not earning much interest, here is a great investment opportunity to help you earn more. This offer began October 1, and will only be available until LCEF reaches their $100 million goal. Act quickly - this is an amazing opportunity and won't last long!

Additional information about this promotion and an application can be found HERE. Visit lcef.org/40month for more details (applications are also available for download on this webpage.) If you have any questions about this offer, call Kevin Grein, LCEF Vice President - Rocky Mountain District at 303.408.1971.

Applications must be sent directly to LCEF:
PO Box 229009
St. Louis, MO 63122-9009


LCEF Shared Blessings Rebate Update
---
Your investments in Lutheran Church Extension Fund (LCEF) help build up FOC by growing our Shared Blessings Rebate! We currently have 273 investors, which exceeded our goal by 35 investment accounts.

Your support for FOC helped us earn an extra $19,000 per year on our rebate! This rate is locked in for seven years, which is such an amazing blessing for our church family. Thank you so much for your commitment to helping us grow our ministry!

If you would like to learn more about LCEF and our partnership with this organization, please contact our Accountant, Sharon Monteleone - or 719.481.2255 ext 225.