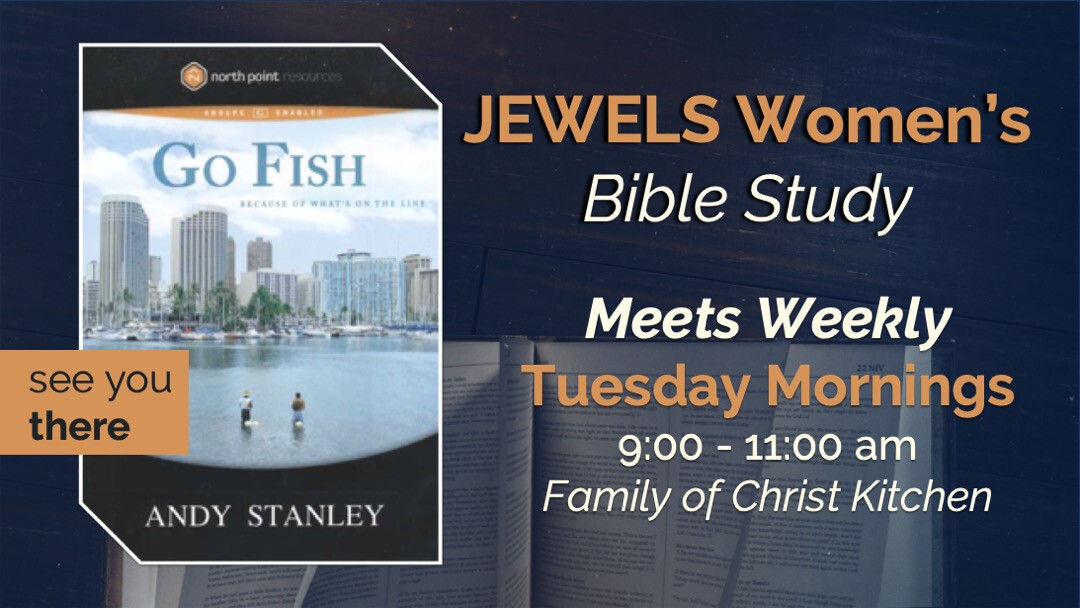 Every Tuesday, from 04/06/2021 to 05/25/2021
,
9:00 AM - 11:00 AM
As part of Family of Christ's Women's Ministry, JEWELS is a Bible study group that offers the study of God's Word in a small group setting!

Weekly meetings are held in the Kitchen at Family of Christ. You're welcome to attend as often as your schedule permits. We always find time for great fellowship! Regular sessions will start at 9:15 am with safe socializing and lessons to run from 9:30 to 11:00 am.
9:00- 9:30 Fellowship time
9:30-11:00 - Lesson


GO FISH
By Andy Stanley
Fishing stories. We've all heard them. "It was this big." "You should have seen the one that got away." People love to tell stories of their fishing adventures. When it comes to faith, however, most people clam up.

Why is it we can't talk about what God has done in our lives as naturally as we can spin fishing tales?

In this six-part study, Andy Stanley explores the motivation behind sharing your faith and how it can become a natural part of your life. Drop by as often as your schedule allows as they regularly review! Attendees are welcome to obtain their own books, available from Amazon.com or Christianbook.com. You can also place an order through our Women's Ministry.

Contact Information
Please note that any ladies who choose not to meet in person are encouraged to participate by phone, Zoom, texts, or email. If you have questions, please reach out to one of the JEWELS co-leaders -

Catherine Allen -
Amy Abernathy -