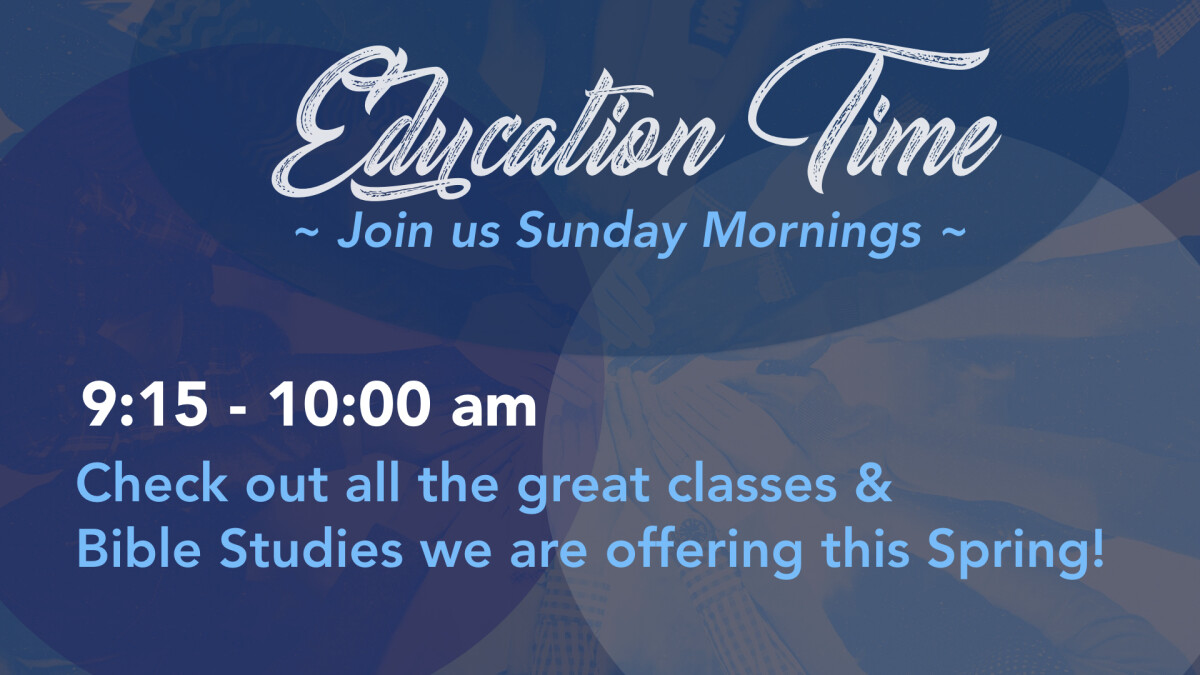 Every Sunday
,
9:15 AM - 10:00 AM
You're Invited to Our Education Time!

On Sunday mornings, we have a dedicated time for Children, Youth, and Adult Bible study opportunities!



SUNDAY MORNING SCHEDULE
Classic Service - 8:00 - 9:00 am
Education Time - 9:15 - 10:00 am
Modern Service - 10:15 - 11:15 am

Fellowship time will be available between our worship services - so please take a moment to grab a cup of coffee and a donut - and join us for a Bible Study of your choice!

Please contact the Church Office - or 719.481.2255 for more information about the current studies we are offering.


EDUCATION TIME CLASSES
ADULT CLASSES
-

The Book of James

- Video Series with teaching by Francis Chan **No class on Sunday, February 17**

-

Practical Christianity: Building Community through God's Gifts

- Learn about your spiritual gifts and how to use them!
-

The Art of Parenting Class

- Integrate your faith and parenting

YOUTH CLASSES
-

REACH

Bible Study for Junior and Senior High School students
-

IMPACT Academy

for High School Students and Parents: Opportunity for teens and parents to discuss Bullying, Gender, and Dating!

Click HERE for more information about the Adult and Youth classes that are being offered this Spring.

CHILDREN'S CLASSES
-

Kids 3:11

- see more details below!


ADDITIONAL CHILDREN'S MINISTRY
CLASS INFORMATION
During our Education Time, children will be given time to worship with their families and participate in some wonderful times of worship and Bible study designed just for them!

CHILDREN'S MESSAGE
A special Children's Message will be offered during each worship service on Sunday mornings.

KIDS 3:11
Kids 3:11 is focused on study/learning! This class will take place during the Education Time and will be offered for kids age 3 to 6th grade.

CHILDREN'S CHURCH
A Children's Church experience will be offered during our Modern Service. Children's Church will be for kids age 3 to 4th grade and will allow kids to worship together. We will direct children to leave the service immediately after the Children's Message to go to their classroom for worship and study!


Please Note:

Families, be sure to check in your kids before worship, so they are good to go when they leave the service after the Children's Message.

NURSERY

Nursery care will be available during both of our worship services and during the Education Time.